Shops and restaurants in historic Detroit neighborhood offering holiday specials; Family-friendly event features caroling, tree lighting, photos with Santa and more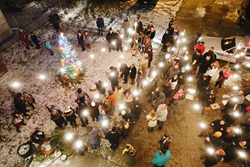 This event brings neighbors together to enjoy the holiday season and welcomes new guests and visitors to historic Corktown. The Corktown Business Association (CBA) and local business owners are getting into the holiday spirit with Corktown-a-Glow – the second annual community event that brings together neighbors and families, and welcomes shoppers, diners and merriment-seekers to Detroit's oldest neighborhood to celebrate the holidays together.

Special discounts, promotions, holiday drinks and dishes will be offered at area businesses, and guests will enjoy complimentary hot chocolate, roasting marshmallows around a hot fire, caroling with opera singer Giles Simmer, festive drumming with Heritage Works, and photos with Santa. Members of the Detroit Police Department's mounted unit will be on hand to greet attendees, and the event is topped off with a community tree lighting celebration and caroling. "The Corktown Business Association and our locally-owned small businesses are thrilled to be hosting Corktown-A-Glow once again," said Erin Gavle, events director for the CBA and owner of Eldorado General Store. "We're a close-knit community and this event brings neighbors together to enjoy the holiday season and welcomes new guests and visitors to historic Corktown."

Attendees will have an opportunity to score gift cards and other goodies from Corktown shops, bars and restaurants by filling out a 'shopping passport' during Corktown-a- Glow. Also, people have a chance to win a one-night stay at Trumbull + Porter Hotel by sharing the Facebook Event page for Corktown-a-Glow in their newsfeed and using the hashtag #CorktownAGlow (one winner will be randomly selected on December 8). And in the spirit of giving, the CBA is collecting new, unwrapped toys, gloves and socks, which will be provided to the Detroit Police Department for distribution to families in need.
Corktown-A-Glow is free and includes a complimentary shuttle to several local businesses and destinations, including:
Detroit Athletic Company
Detroit Barbers
Eldorado General Store
George Gregory
The Farmer's Hand
Hello Records
Mama Coo's Boutique
Metropolis Cycles
Mudgie's Deli & Wine Shop
Nemo's Bar & Grill
Ponyride Holiday Makers Market
Takoi
Trumbull & Porter Hotel
Corktown-A-Glow kicks off at noon on Saturday, December 9. Photos with Santa begin at 5:00 p.m. at Trumbull and Bagley streets, and the tree lighting begins at 6:00 p.m. For more information, visit the Facebook event page HERE.
🏷️ Related Tags From This Story: