After years of hard work by dozens of volunteers the Detroit 2030 District is finally here!
Join us at our launch celebration June 7th for 4:30-6:30 PM at Next Energy, 461 Burroughs, Detroit!
The Detroit 2030 District is a private-public partnership which offers building owners, property managers and developers the tools to reduce a building's energy use, water use and transportation emissions through collaboration, leveraged financing and shared resources. First established in Seattle in 2006, Districts have been launched in 15 cities including Cleveland, Pittsburgh, Los Angeles, Denver, San Francisco, Toronto, Dallas, Albuquerque, Grand Rapids, MI, Portland, ME and Ithaca, NY. Over 325 million square feet of commercial building space has been entered into the program across the country. To learn more about 2030 Districts, click here:
2030 Districts
.
Hors d'oeuvres and refreshments will be served and are included with your ticket purchase.
Featured Speakers Include:
Valerie J.M. Brader Executive Director, MI Agency for Energy
Valerie Brader is the Executive Director of the Michigan Agency for Energy. Her service with the administration began in 2011 and prior to this role, she served as Deputy Legal Counsel and Senior Policy Advisor to Governor Snyder, including work on the City of Detroit bankruptcy case. Before her service in state government she was a member (partner) at Bodman PLC, practicing primarily environmental and corporate law (with a specialization in assisting new or expanding businesses, from incorporation to securing permits and tax credits). A Rhodes Scholar and published author in both the legal and scientific presses, Brader previously worked as the career law clerk for the Hon. John Feikens of the Eastern District of Michigan, as an environmental consultant to the EPA and Department of Defense, and for Gov. Phil Batt (RIdaho) on environmental and natural resource issues.

John Guardiola, VP Engineering and Construction, Bedrock Real Estate Services
As Vice President of Engineering and Sustainability, Mr. Guardiola provides strategic operations and engineering oversight for all facilities activities, as well as assists onsite engineering staff as a technical resource for all assets across the Bedrock portfolio. John's duties include creating specific operational process and procedures to meet all Bedrock required operations and engineering program compliance needs, staffing, technical support, project management, construction MEP liaison, training, and corporate energy initiatives.

Cathy Moretto, Director, Energy and Sustainability, CBRE Global Workplace Solutions
As the Director of Energy & Sustainability on the Comerica Bank account team, Cathy provides leadership to Comerica's corporate sustainability efforts. She is directly responsible for managing and reporting on sustainability initiatives and associated metrics, including programs for energy conservation, water conservation, waste minimization, commodities procurement, cost recovery, and facility performance measurement and optimization. She provides vendor oversight for web-based irrigation control services, environmental management database services, utility bill-pay services, and waste collection/disposal services.
Thank you to our partners: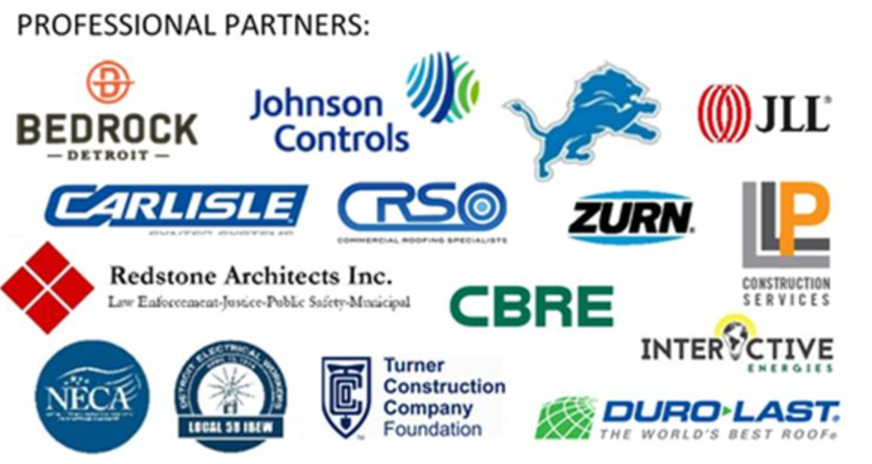 Source: Untied States Green Building Council, Detroit Chapter
🏷️ Related Tags From This Story: