A workshop for entities looking to purchase Electric Vehicle Supply Equipment.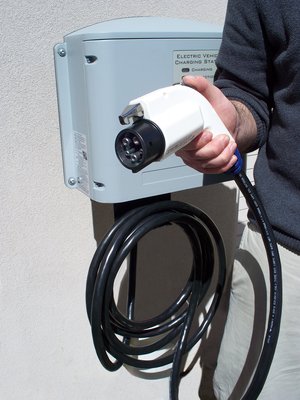 EV Charging Station
Automakers are investing heavily into electric vehicles, demonstrated by the launch of  12 new EV models into the U.S. market in 2012. Without a specific line item on the budget to prepare for this trend, many Michigan-based cities, universities, and private businesses are looking for creative financing to encourage EV owners to charge at their facilities.
This two-hour workshop will include presentations on innovative approaches to help entities cover the cost of equipment, installation, and even the vehicles.
When: Wednesday, March 7, 2012 
10:00am to 12:00pm
Where: Dearborn's Ford Community & Performing Arts Center, Studio A 
15801 Michigan Ave, Dearborn, MI 48126
AGENDA
– Selecting the Right Equipment and Installer
Mark Ferda, McNaughton-McKay
– Performance Contracting for EV Purchasing
Mark Johnson, Johnson Controls
– Corporate Sponsorship for EV Charging Stations
Thomas Wither, National Adopt-a-Watt Program
– Property Assessed Clean Energy (PACE) Program Funding
Wendy Barrott, Ann Arbor PACE Coordinator